Rice Pudding with Jam is one e-liquid that is worth all the hype. Brewed by Dinner Lady, Rice Pudding with Jam is one of their e liquid flavor profiles that have taken the vape community by surprise. Dinner Lady is a vape juice manufacturer with its headquarters in the United Kingdom, but with products spanning across different countries even within the U.S. As a company, they are focused on providing a broad array of the finest top-quality e-liquids that money can buy.
Other than Rice Pudding with Jam, one other vape juice flavor that Dinner Lady has become well known for is the iconic Lemon Tart flavor. Putting the preferences of vapers scattered all over the globe, Dinner Lady makes sure to include a variety of available options in their eliquids so that everyone can get a brew that will suit them perfectly. You can get a variety of Dinner Lady e-liquids at https://ultimatevapedeals.com.
Rice Pudding with Jam is a unique dessert flavored E liquid that will transport your taste buds to a colorful paradise. It is also one of Dinner Lady's highly in demand vape juice, and arguably the best dessert flavored vape juice in the market. So if you are looking for an excellent addition to your line-up, then you have come to the right eliquid. You can enjoy unlimited amounts of this creamy blend without having to worry about your waistline.
It features a smooth and buttery rice pudding that melts in your mouth, then followed by a delightful and generous serving of intense raspberry jam that ignites your taste buds in what you will call a berry explosion. In the end, your drag is crowned by dense and sweet clouds of vapor that will leave you with a relaxing exhale. Every drag is just as fresh and refreshing as the very first one.
The best part is that Dinner Lady's Rice Pudding with Jam e-liquid will leave you with a mouthful of flavor that will leave you drooling for more each time. This is as opposed to the chemical aftertaste most other dessert flavored vape juice tends to have. So do not be surprised if you run through your bottle faster than you can imagine.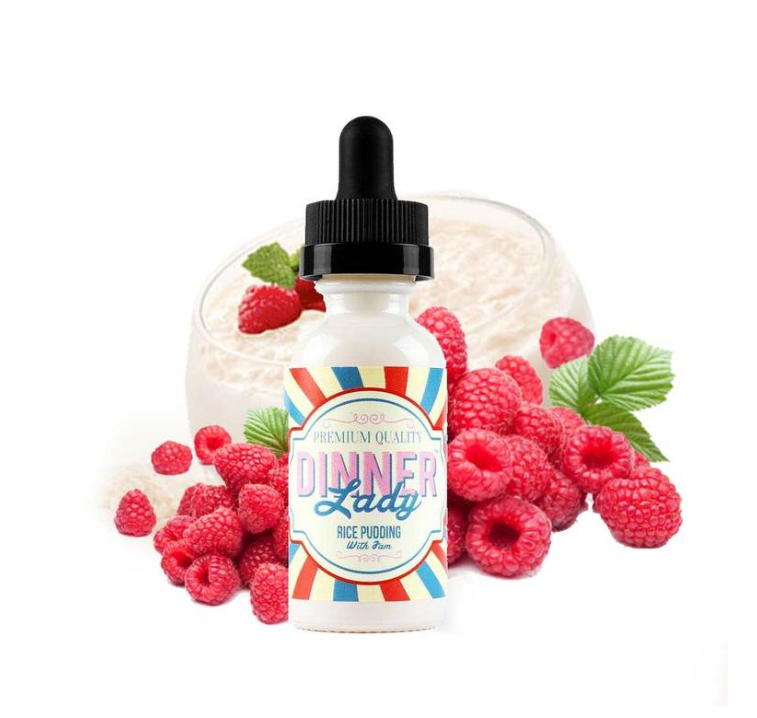 Dinner Lady uses high-grade ingredients in the manufacture of all its products. In this case, Rice Pudding with Jam e liquid is made with the best quality of vegetable glycerin (VG) and propylene glycol (PG). Rice Pudding with Jam E liquid features a 70/30 vegetable glycerin (VG) and propylene glycol (PG) ratio.
As a result of its high concentration of VG, dinner lady rice pudding with jam e liquid if a high VG blend. Just as a proper high VG blend should be, Rice Pudding with Jam E liquid can be used with low power devices. It will also produce excellent and full flavor with a satisfyingly smooth throat hit. All this is then crowned by the rich and full clouds of vapor that you will be able to chuck out of this one. So if you are a cloud chaser, you may have just met your best friend. It is a considerably thick vape juice, regardless, it will not gunk up your device as most low-quality e liquids would.
Taking the preferences of vapers into consideration, Dinner Lady manufactured this vape juice flavor in varying nicotine strengths so everyone can find a suit. From beginner, veteran, light or heavy vapers. There is a bottle made just for you. It is available in 0mg, 3mg, and 6mg of nicotine.  The nicotine hit at high concentrations is smooth without any harshness whatsoever. However, take note that the more nicotine, the less the flavor you will get. So if you are after an amazing flavor, you may consider a bottle with a lower concentration of nicotine.
If you are looking to buy high-quality but cheap e-liquid, check out the Ultimate Vape Deals online store.